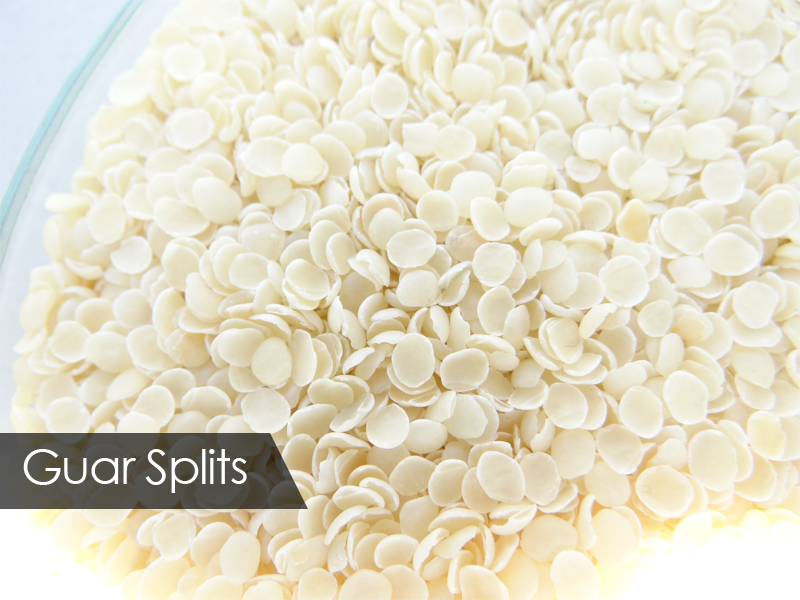 Product Description
Guar Gum Refined Split is refined endosperm derived from guar seed or cluster bean (cyamoperm tetragonoloba). It is a non-ionic polysaccharide galacomannan. Guar Gum Refined Split (Endosperm) is mechanically separated from guar seed which yields 28-30% of Refined Split. Guar beans are harvested and dried following the growing season.
The beans are shelled from the pods, the germ and hull removed. The resulting splits are wet-milled into powder; the powder is graded by granulation and quality. We provide quality Guar Gum Splits to quality manufacturer of Guar Gum Powder, which is their pre-requirement for manufacturing high quality Guar Gum Powder.
Packing (Seaworthy):
50 kg net each bag outer pp woven , inner PE liner.
Jumbo packing of one Matric Ton is also avaliable.
Specifications:
S.No.
SPECIFICATIONS
TYPES
GGC 105
GGC 100
GGC 90
1
DEHUSKING RATE
94% MIN.
93% MIN.
91% MIN.
2
ODOUR
ODURLESS
ODURLESS
ODURLESS
3
MOISTURE
8 % MAX.
10 % MAX.
10 % MAX.
4
BLACK SPLITS
0.5% MAX.
0.7% MAX.
1% MAX
5
RED SPLITS
0.5% MAX.
0.7% MAX.
1% MAX.
6
ACID INSOLUBLE RESIDUES (AIR)
2% MAX.
2.3% MAX.
2.5% MAX
7
ALBOMINOIDS (NX6.25)
4% MAX.
4.5% MAX.
5.0% MAX.
8
FIBER
0.1% MAX.
0.5% MAX.
0.5% MAX.
9
OIL
0.3 % MAX.
0.3 % MAX.
0.3 % MAX.
10
GUM CONTENTS (BY DIFFERENCE)
85 % MIN.
83 % MIN.
80% MIN